In the same time, according to the common feeling of uneasiness about the fate of Trieste, Dal Molin decided to associate the name of this julian town to that of his own firm. In this way, in Autumn 1945 the Wilier Triestina was born, distinguished by its red copper-coloured bicycles, which later became an authentic trade-mark. The following year the team took to the first Tour of Italy of the post-war period, cutting in the duel between two great champions, Coppi and Bartali, and gaining flattering victories in several laps. After all those successful races, Wilier became part of the most important Italian cycling: this big industrial boom involved an enlargement both of the plant and of the staff, in the order to meet the increasing demand; so, the production reached 200 bicycles a day, employing 300 workers.
Strong in its success and thanks to the prestige it had gained, in 1947 Wilier bought up a promising young cyclist: Fiorenzo Magni, this one, instead of being crushed in the challenge between Coppi and Bartali, found out the right system to become the third great protagonist of Italian cycling, by winning the Tour of Italy in 1948. This is the same year Wilier spread its intense activity in South America too, where a small team of local professional cyclist collected dozens of wins.
In the following season, the team, reconfirmed for its great performances, won several national races, until it became successful in 1949 and in 1950 in the Tour of Flanders and the Tour de France.

Unfortunately, after the first enrapturing phase of national reconstruction, in the early '50s, came the period of the economic miracle: people gave up bicycles to discover scooters and motorbike. Cycle firms suffered the damage of progress, and in 1952 Wilier Triestina had to shut down and leave its agonistic activity.
Nowadays, the glorious story of this firm and of its "copper-coloured jewel" lives again thanks to the Gastaldello brothers from Rossano Veneto, who bought the Wilier Triestina mark in 1969, proud to bring again great favour to one of the best known Italian cycle houses and providing dozens of professional and dilettantish Italian and foreign teams with their bicycles.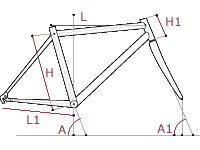 L H A H1 L1 A1
S 51.5 46 75° 13.2 40,5 71°
M 53.5 48 74° 30' 14,7 40,5 71° 30'
L 54.5 50 74° 15,7 40,5 73°
XL 56 52 73° 30' 17,5 40,5 73° 30'
XXL 57.5 54 73° 20,2 40,5 73° 30'
Recommended link: www.wilier.it