WELCOME
Bellatisport partners with Tracemyworld [

new

]

Get more out of your GPS, try the new emerging portal of Tracemyworld. Finally a service where your data really moves !! Nice and smooth animations, create your races, invite friends, and challenge people. Create races even along your past workouts and analyze your progress. Keep your diary, earn points while doing your preferred outdoor activity, and get discounts on shop.
Apply this code to start already with 1000 points and Club Membership.

That's a gif from Bellatisport, enjoy !!
Promotion: save 25%. Buy it before the May 31th - 03/05/2013

COMPEX Wireless CHF 1650.00 ./. CHF 400.00 special promotion = only CHF 1250.00: the ultimate electro muscle stimulator with 'No Limits' in time and places of use, in frequency, in performance, in online support and with contemporary design. It offers e-stim users true freedom of movement and optimal ease of use. The COMPEX Wireless acts as a true coach with a training web interface offering an unlimited number of standard and personalized objectives. Never before Compex has developed a device that meets your needs at such a high level.
Giro d'Italia Fight for Pink - 03/05/2013

All the official jersey,Giro fashion and stages collection 2013, available here !
New: Polar RC3 GPS Tour de France - 11/04/2013

Integrated GPS in a Limited Edition. Essential features in one compact package. Tracks your route, speed and distance using built-in GPS Shows GPS based altitude during and after training Training Benefit gives you instant feedback after your session Improves performance with endurance training programs, downloadable for free from polarpersonaltrainer.com Compatible with Polar running and cycling sensors Rechargeable battery, 12h in continuous use with GPS on
De Rosa Action King RS - 12/03/2013

Look this nice spring offer from De Rosa. Choose your favorite solid color and takes advantage of the low price!!!
Time Last Season Offer - 08/02/2013
Last Season Offer on Look frames: 40% discount - 07/02/2013

.
Campagnolo Sportwear - 23/01/2013
Bellatisport.com iPhone, iPad & Android App - 04/01/2013

Bellatisport mobile gives you instant access to more than 2000 cycling products and 100 brands. Special offers with world-wide attractive prices and discount up to 30% off are regularly available and short notifications over push will keep you updated. Easy browse or search your favorite products in our catalogue and checkout directly throughout the app. A GPS logger (tracker) is also included: it can display real-time data, elevation and speed charts, log history and statistics. You can follow your workout on a live map and save the performance on the phone whenever the internet is not available. It supports both metric and imperial data formats. It's your starting-kit to enjoy the unique features of http://www.tracemyworld.com, where you can analyze and smoothly replay your performances, setup races, challenge people and replay races in multiplayer mode.

Recommended links:
Android App on Google play
iPhone & iPad App on iTunes
SPECIAL OFFERS
All these offers are limited until end-of-stock. Immediate delivery time.

Compex Wireless

$ 1,710.02

$ 1,295.47

Look 576 Last Season Offer
$ 1,206.34

Mavic Crossmax SLR Disc
$ 855.01

Reynolds Assault
$ 1,142.61

Time bicycle RXRS Ultegra 2012
$ 5,608.56

TireFlares Anti-Theft
$ 14.92
SHOWROOM
AX - Lightness AX - Premium MTB tubular wheelset
$ 2,356.51
Fulcrum Racing 7 2013
$ 202.40
Kuota Korsa 2013
$ 1,006.63
Marchisio Adapters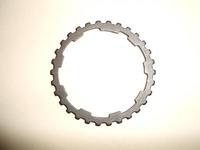 $ 1.55
Mavic Ksyrium SLS WTS 2013
$ 757.90
Selle Italia Prolink Gel Flow
$ 97.21
Shimano Dura-Ace ST-9000 / ST-9070 Dual Control lever
$ 431.13
Tracemyworld Vest Full Windstopper by Santini
$ 104.47